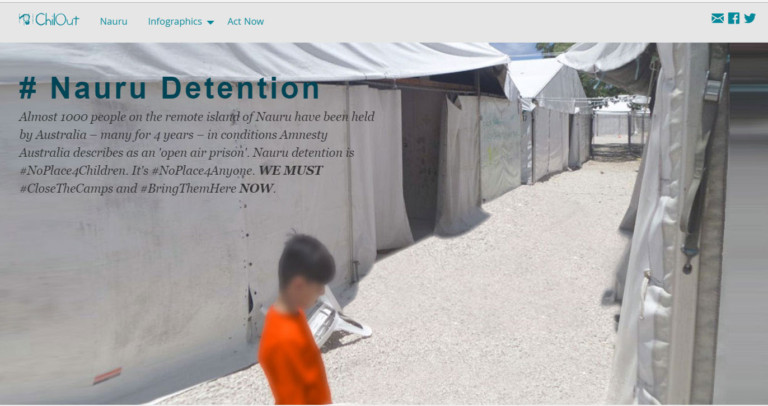 ChilOut | Nauru
Website of ChilOut Nauru, Non-profit organisation.
"Almost 1000 people on the remote island of Nauru have been held by Australia – many for years – in conditions Amnesty Australia describes as an 'open air prison'. Nauru immigration detention has had literally thousands of reports, articles and news stories published about it; to mention nothing of countless inquiries. But after so many years people experience empathy exhaustion. Regardless, many myths are still spread, and openly perpetuated by politicians and those who would benefit from keeping the camps open. That's why ChilOut – Children Out of Detention – came up with the idea for the Nauru website. The website provides information in small digestible chunks, thematically organised, each piece shareable across social media platforms. These include videos, quotes, facts, infographics, and documents. Ratih helped us design and implement the website, graphics and quotes and sort out the countless technical hurdles encountered by having multiple sharable elements. In Twitter alone we make about 80,000 impressions a month, the highest hitters of those mainly being Nauru-based infographics from the website. Typically each post in Facebook can reach around 2000 people. Many thanks to Ratih, not only for her initial design and implementation, but for ongoing support beyond the brief!"
Jessica Perini – Vice President at ChilOut Revived
URL: www.chilout.org/nauru.
Tags: #ClosetheCampBringthemHome, 2017, Australia, Categories, Children in Detention, ChilOut, Foundation, Jessica Perini, Nauru, Orbit, Responsive, Social Media, Sticky Navigation, Website, Wordpress, wp_query