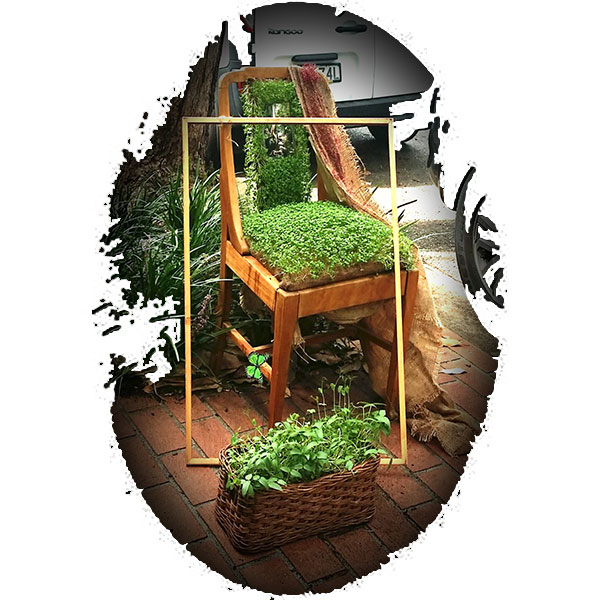 Sustainable Chippendale
Organic Art Installation @Sustainable Chippendale - 2016
Life size, recycled furniture items, organic sprouts, amaranth red garnet microgreen on hessian shawl.
An organic art installation created to engage public interest in Sustainable Chippendale. It is intended as a starting point, a launching pad to encourage the community participation and ownership of their environment.
An installation at 8 Myrtle Street Chippendale, created to set precedent for future developments of organic living spaces along the street. Featuring a photo of Tayrona Park (Colombia) to reflect the cultural heritage of the resident. It was planted with exotic microgreens, specially selected for a variety of organic colours and textures. Rocket emeralds on the chair, amaranth red garnets on the hessian shawl, mung beans and peas in the planter basket. The green butterfly swinging on a thin wire spoke of gentle childlike fun as it swayed with the breeze. The wooden frame was intentionally left empty, an inviting and inspiring blank canvas for community participation.
Sustainable Chippendale
Founded in 2010, Sustainable Chippendale is the first sustainable suburb in Sydney. It is a community initiative for sustainable living. The initiative became possible with the strong commitment of highly motivated local residents led by Michael Mobbs in cooperation with the City of Sydney Council.
Concept Development and Technical Advice: Sjef van Klooster.
Photography: Sjef van Klooster.
Tags: 2016, amaranth red garnet, Environmental, hessian shawl., Installation, Life size, Maria Prada, Michael Mobbs, microgreen, Organic Arts, organic sprouts, recycled furniture items, Sjef van Klooster, Sustainable Chippendale